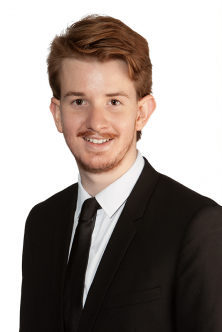 Nicholas Dow joined QAO in our 2018 graduate cohort and has just started his second year as an auditor. During his time as a graduate auditor, Nick worked in audit teams looking at large, combined entities situated in Brisbane as well as a team that travelled to conduct a small local government audit in Far North Queensland. With a year of experience behind him, Nick was happy to share his experiences, discuss what he learnt and how he grew personally, and give some insight into the graduate program.
What was the highlight of your year?
I started working with the team auditing Wujal Wujal Aboriginal Shire Council in October and traveling with that team was the best experience of my year as a graduate auditor. It was well outside of what I had been exposed to as an auditor up to that point, and I had never been that far north in Queensland before. When our team arrived in Wujal Wujal to conduct the audit, the community Elders welcomed us with a smoking ceremony, which was a completely unique experience for me and one I will never forget.
I would encourage everyone in the graduate program to put their hand up for local government audits and travel opportunities. I learnt so much during my two weeks at Wujal Wujal on this audit, because councils are ever-changing and must adapt to events in their area. From an audit perspective, this makes it a really interesting area to audit and a great hands-on experience.
What about the learning and development opportunities?
QAO held graduate forums throughout the year for the graduates, and they were the best learning experience I could have asked for. At these, all of our graduate cohort would share and discuss ideas, experiences and reflections. The graduate program coordinators also planned sessions for us at the forums where different staff members would speak, for example about new accounting and auditing standards. In terms of my learning and development, this was the best part of the program as I was able to understand everyone's different experiences and see what we were learning and developing as a group, not just solely focus on my individual experiences. We also had learning sessions or blocks throughout the year, which were a great development tool to learn about different parts of audit. Overall, the learning and development opportunities were one of the best parts of the program, and the office provides this for your benefit.
How did you feel on your first day?
Starting the graduate program was daunting, but it was also exciting as everyday there was something new to learn. The university I attended only offered one audit subject as part of my accounting degree, so it was daunting coming in on day one and not knowing what to expect.
But that feeling didn't last long. Overall, I've found it easier to learn about audit in the work environment than at university. I've had great support from my team right from the start, and there was always someone on hand to answer my questions. My team and buddy really guided me throughout the year as my knowledge grew, and they started giving me more, and higher-level, work.
What was the first big task you worked on?
My first big task was the year end testing for Queensland's public safety entities (Queensland Police, Queensland Fire and Emergency Services, Public Safety Business Agency, and Inspector-General Emergency Management). This happens at the time of year when the audit team is under pressure to meet a hard deadline. Until then, I had been given some leniencies as a graduate—taking a little longer than others to finish work—but at this point I really needed to focus and push through with my team to finish the work.
Looking back, it was a great learning experience because it taught me to focus on taking the amount of time I need to for each procedure and how to prioritise my day. At that time, I quickly found that I needed to be more efficient and focused with my work, and I was able to rise under that pressure with the help of my team and deliver what I needed to. My manager was always on hand to answer any questions, even when busy or in meetings. The support that the office and every team provide to you is what pushed me through those deadlines and helped me grow as an auditor. I'm feeling much more prepared now, coming in my second year as an auditor, and more confident in my work.   
What's the biggest challenge you've overcome?
Starting in the workplace was the biggest challenge I've faced, as I had only worked casual jobs while at university and was unsure of what to expect. I'm also a quiet, shy person by nature, and as an auditor you're often talking to people in the office and clients and pushing yourself to have good, productive discussions. For me, it was a challenge to come in to a group of people I didn't know and reach out and be myself.
But it's worked so well—everyone in my graduate cohort are great friends, and everyone in the wider office is as well. There's plenty of social events throughout the year where you can meet different people from the office and that's helped me be more confident in talking to clients and other professionals as well. This has been the biggest challenge I've overcome yet, and the best for me personally because I'm a lot more confident in myself.
What do you enjoy most about your job?
The best part about being at QAO is definitely the culture and the people!
I enjoy what I'm doing each day in terms of my work as an auditor, but the thing I enjoy most is coming to a workplace where the people are positive and you can have a chat with anyone at any time. It's a really positive culture—I would definitely recommend working here.
The work-life balance is also a big advantage—there's no pressure to work overtime hours if the workload doesn't demand it, and we're encouraged to take leave when it suits us throughout the year, not just over the Christmas break as many people I graduated with do. It's something that working in the government, and at QAO in particular, has to its advantage, and it's been great for me.
What's the best piece of advice you've received during your time in the graduate program?
When I was struggling with hard deadlines and the pressure to meet them, a team member explained that auditing means you will be in pressure situations at times—that is just the nature of the job—but what's important is overcoming that within yourself. Their advice was to focus on what I was doing, prioritise my work, and to set goals for what I wanted to achieve each day. That advice helped me push through the work at that time and has prepared me for my second year as an auditor.
The best advice I can give to someone starting the program is to not take things too quickly. As a graduate at QAO you have a whole year to learn and experience things, and you're not expected to know everything immediately. Take an open mindset and go with the flow—you'll learn as time goes on.
I would encourage all graduates to put their hand up and say what they want out of the graduate program as well. I asked to work on a local government audit, and that was a defining audit for my development. If you don't reach out and tell someone that you would like to have those experiences, they won't know what you're interested in. So put yourself out there.