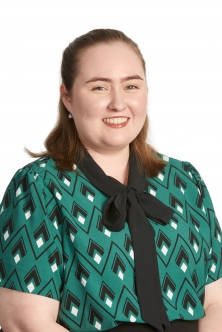 Brianna Reid joined the QAO graduate program in 2021. She had a productive first year, working on audits for various entities including government departments, a council, a university, government owned corporations, and a hospital and health service. Brianna is currently working on our Local government 2021 report.
We chatted to Brianna about what a day as a graduate auditor looks like.
What do you do on a day-to-day basis?  
I initially thought that it would be same work day in and day out, but I was surprised when I started just how varied my days can be. Every day I am doing something new, working with different people and expanding my audit knowledge. The work you do depends on the client you are working on. Some days I'll be at a client site discussing their systems and processes while other times I'll be at head office working alongside other members of the audit team.
A day may include any number of things—in-person or virtual meetings with a client, collaborative group work with my teams, quiet or focused work at my desk, traveling to see a client, or wider QAO activities such as in-person or online training or a social activity.
We also have fantastic technology to support our work, for example, we use the Microsoft 365 suite including Teams for online engagement, SharePoint Online for internal collaboration, and are provided with contemporary hardware including laptops and mobile phones.
Every day I am doing something new, working with different people and expanding my audit knowledge.
What sort of team do you work in as a graduate auditor?
The size of the team depends on how big the client is, and the people in each audit team also changes from job to job. Not only does this make it easy to meet people in the office, but you are also able to develop relationships with a diverse range of people.
No matter the team I'm on, I'm always comfortable approaching anyone, whether it be a senior auditor or my manager. I've found the other members of my team to be very supportive and are always there to lend you a helping hand. As part of the graduate program, you also get assigned a buddy who you can reach out to if you need advice or just to simply have a chat with. My buddy has been a great part of my support network as they too were part of the graduate program, so they know exactly how I'm feeling and what I'm going through. If you're lucky, you may be able to be on the same audit as them!
What do you enjoy most about your job?  
The people and the culture! I've found that everyone in the office is super friendly and always up for having a chat—whether it be work related or simply asking how your weekend was. In my first week at QAO people I had never met before were approaching me and striking up casual conversations in the kitchen. It's this positive culture that makes QAO such an enjoyable place to work at.
I also like that every day is different. During my grad year, I've had the opportunity to work on a variety of audits across different sectors including departments, a council, and a university. Working across different audits has been challenging at times but it's provided me with practical hands-on experience and broadened my knowledge of auditing processes. It's refreshing to know that the work I am doing every day is making a valuable impact on the lives of every Queenslander.
I've found that everyone in the office is super friendly and always up for having a chat—whether it be work related or simply asking how your weekend was.
Would you recommend working at QAO, and why?
I would certainly recommend working at QAO. It's a great foundation for someone who is fresh out of university and looking to start their first full-time professional job.
I'm surprised by how much I have grown professionally and personally throughout my first year at QAO. The graduate program offers a wealth of professional development opportunities and regular training blocks to improve our auditing knowledge and ensure we're up to date with current accounting standards. You never have to worry about not being supported—as part of the program, you also have monthly graduate forums where you meet with your graduate cohort, chat about your recent jobs and share your experiences.
One of the advantages I found working at QAO is the work-life balance and flexible working arrangements. Given how mobile we must be in order to complete audits, we are fortunate enough to be able to work from home, at client sites and at QAO's main office in Brisbane. There also is no expectation to work overtime unless it is deemed necessary, and the resourcing team will ensure we can take leave to have time off to recharge.
What's the best piece of advice you'd give to a new grad? 
The best advice I would give to a new graduate would be to never be afraid to ask questions, no matter how simple it may sound to you. I've found that everyone at QAO is very kind and will take the time to explain anything to you.
It's also important to take things slow and not get too stressed when something doesn't make sense. I struggled with this when I first started as I thought everyone would expect me to know everything about audit. I quickly found out that this wasn't the case. Auditing is not something that you learn overnight, and the graduate program allows you time to learn and experience everything while providing you with an excellent support network.