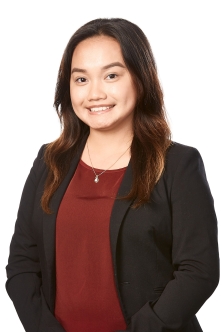 Since joining QAO as a graduate auditor, Khendie has built knowledge and experience as an auditor and enjoyed opportunities to work throughout Queensland and in New Zealand. In her current role she collaborates and works in varied teams across QAO's business to conduct audits and glean unique insights, where no day or audit is the same.
Brief career history
I started at QAO as a graduate auditor in 2019. Since then, I've had valuable experiences throughout different areas of audit. I have been a part of teams auditing government owned corporations, statutory bodies, departments, and local governments and their subsidiaries, and worked on financial and information systems audits.
QAO has provided me with comprehensive in-house technical and non-technical training, which complements on-the-job practical experience. This ensures I'm equipped with the right information and techniques for engaging with our clients. Now, as an audit senior, I'm responsible for leading low-risk audit engagements and supervising team members.
What inspired your career path as an auditor?
I wanted to join an accounting stream that allowed me to travel, brought interesting challenges, and enabled me to make positive contributions to the community. 
QAO appealed to me because it is an established integrity body that audits all of Queensland's public sector entities and local governments, and I could see that I'd be making a positive difference through my work. I liked that I would have the ability to work on different audits and in various teams across the business, and help provide insights and advice across the whole program of financial, performance, and assurance audits and reports to parliament. I read the report Follow-up of Managing water quality in Great Barrier Reef catchments (Report 16: 2017–18) and knew I would like to be a part of this organisation making recommendations on how to better public sector services.
You were chosen for a secondment with Audit New Zealand in 2022 – tell us about that experience
The secondment with Audit New Zealand was nothing short of remarkable. We started with a 2-day induction in Wellington to learn Audit New Zealand's methodologies and auditing tools, and met other secondees from Australia and the New Zealand Auditor-General. Eliza Blanch, also from QAO, and I then flew to the Dunedin office.
While in Dunedin, I worked on audits of the railways, airport and event centre. It was very rewarding to help Audit New Zealand deliver and sign-off on these audits prior to the statutory deadlines. Over the weekends, Eliza and I explored Lake Tekapo, Mt Cook, and Dunedin itself, where we hiked up Baldwin Street (the world's steepest street) and took a dip in Dunedin's freezing beach at St Clair.
What's the most important thing you've learnt so far?
The most important thing I've learnt so far in life is to take the opportunities that come your way!
I am very grateful for the New Zealand secondment, and all the logistical efforts put in to make it a success. QAO actively seeks to identify where things can be better and works towards fixing these. I appreciate that not only are we aiming to make our clients' operations better, but internally QAO is always seeking positive changes for its staff – like this secondment opportunity.
The secondment itself was an initiative to connect with other audit offices and potentially share resources where needed. I look forward to seeing the success of our secondment become a continuous opportunity for QAO, providing our staff with priceless experiences and connections.
During my time at QAO, I've also taken the opportunity to learn skills in information systems audit, broadening my knowledge into modern and contemporary audit techniques. I'm now able to identify gaps between systems and manual control environments, further strengthening client operations and system security.
What's the best thing about working for QAO?
The best thing about working for QAO is its people. The support I've received since starting as a graduate auditor has been amazing. As a graduate, I didn't know what I didn't know, but everyone within the team and in QAO were very approachable and insightful – not only towards learning audit methodologies but also towards my career progression. QAO also supported my career development and Chartered Accountant program studies.
If you want to work for an organisation that supports work-life balance and your career development, and provides opportunities to tackle rewarding challenges, give QAO a go and join our team.